The Economy of Puerto Rico, Explained [Part 2]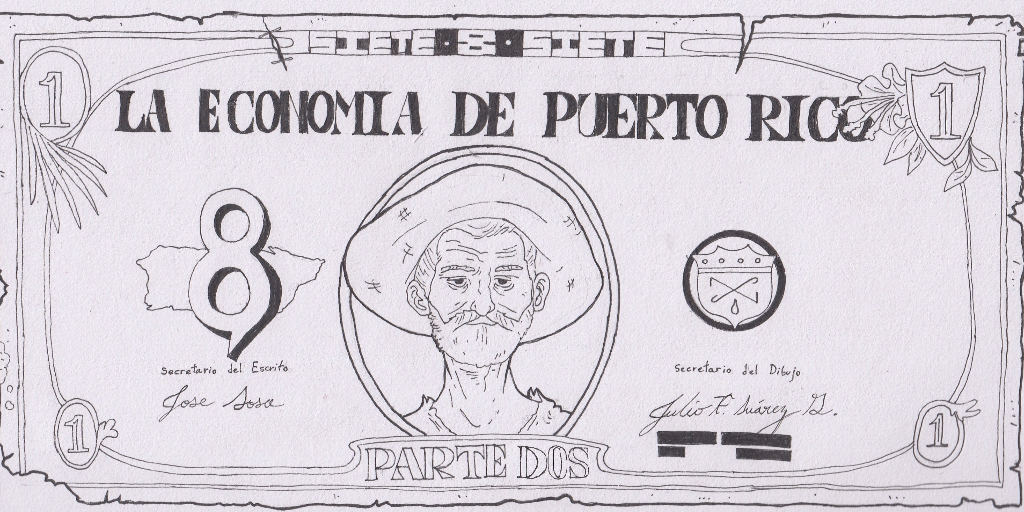 By: Jose Sosa
In collaboration with Asociación de Estudiantes de Economía de la Facultad de Ciencias Sociales, UPRRP
Para leer la versión en español, oprima aquí.  This is the second in a three-part series in which we explain, in simple terms, how the economy of Puerto Rico works.  WARNING: If you haven't read Part 1, start there. 
Part 2: Losing water
To recap what we learned in Part 1, there are serious leaks in Puerto Rico's economic flow, and the impact of these outflows is augmented by the lost multiplier effect. The second big problem is that we essentially have an inflatable pool losing water and, unless we pour water back in somehow, the pool will eventually empty out. Clearly, there needs to be an economic inflow that compensates for the outflows just described, or else the economy would completely collapse in short order. Thankfully, there is.
The first two sources of inflow we will discuss are local export companies and foreign export companies. Let's go ahead and add them in.  Remember: green arrows represent money flowing in, red arrows represent money flowing out.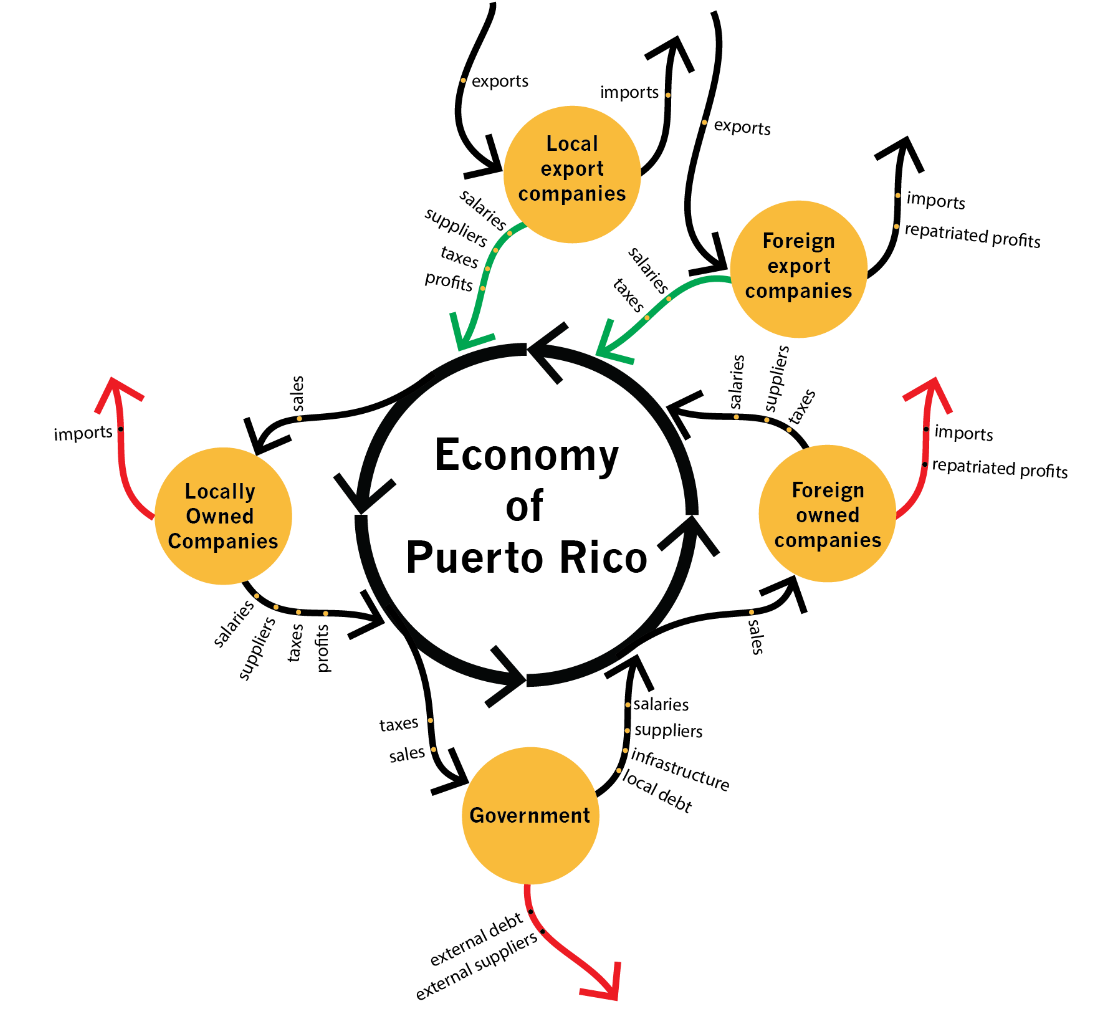 Local export companies are local companies that export their products to other countries. Although the sales happen outside of Puerto Rico, the money then flows back to our economy in the way of salaries, payments to local suppliers, owner's profits, and taxes, essentially increasing the circular flow. That is, products go out and money comes in. Unfortunately, Puerto Rico has very few companies that export their products to outside markets. Some of these include companies like Bacardi and Destilería Serrallés, among a few others. Many believe that the reason we don't have more local companies exporting is because of the historical focus by the local government on incentivizing the growth of foreign export companies, which is the second source of inflow we will discuss.
Foreign export companies: Puerto Rico has traditionally been a tax haven for certain manufacturing companies who, by relocating here and taking advantage of certain tax laws, can pay much lower taxes than they would elsewhere. The fact that they are exporting means they do not compete with local companies. However, the fact that they are foreign owned means their sales have little effect on Puerto Rico's economic flow, as they flow right back out in the way of payments to suppliers or repatriated profits. The impact that these companies do have on the economic flow comes mainly through the wages they pay to local employees and the taxes that they pay locally. This is all good, as they are not taking anything away from the economy and are simply contributing in the way of taxes and wages. In fact, because of these net benefits, Puerto Rico's economic growth plan for the past 75 years has been predicated on getting more and more of these companies to relocate here.  #HowsThatGoing
The problem with these export companies comes in two flavors, the first being that, since most of these companies are huge multinationals with few ties to Puerto Rico, they usually will not hesitate to relocate once the advantageous tax laws change, as clearly happened once the 936 tax laws were modified. Second, and maybe more importantly, there is a huge problem when all the attention and effort of the government is placed in attracting these firms at the expense of finding ways to encourage and support the development of local exporters, which are much more valuable to the economy in the long run.
Now, the inflows received thanks to both local and foreign export companies don't come even close to matching the outflows of money previously described. Instead, in order to match the outflows, our economy depends on three other sources of inflow: tourism, federal agency spending, and last but not least, net federal transfers.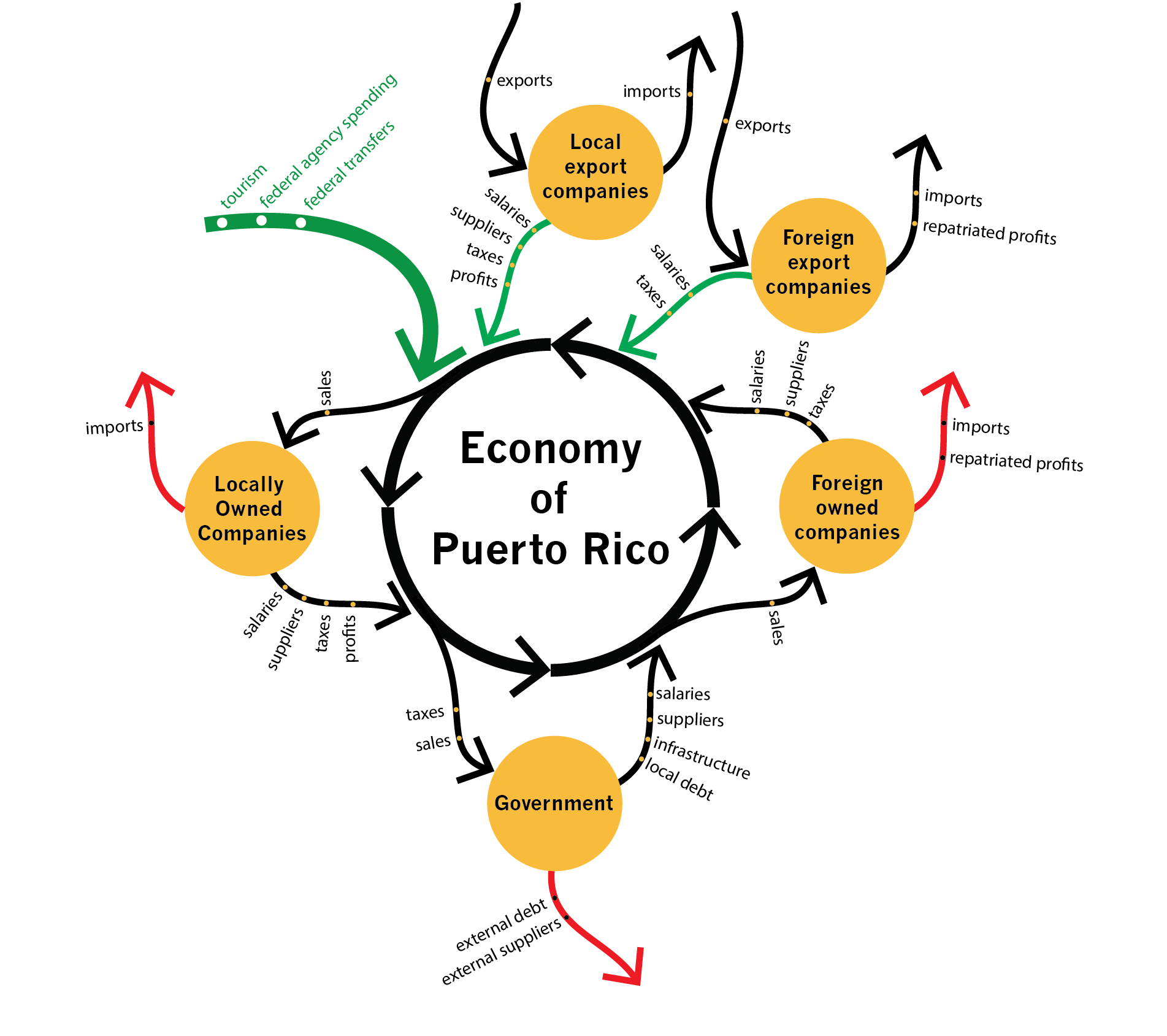 Tourism: The tourism industry represents a big source of inflow for Puerto Rico. Given our location in the Caribbean, there is also a big potential for growth. However, the fact that so many hotels here are US owned limits the multiplier effect of every dollar spent.
Federal Agency spending: These are federal agencies that operate in the island, and whose entire operating costs are paid by the federal government. That means that wages and other operating expenses later flow into the economy, representing a net benefit for Puerto Rico.
Net federal transfers: Ah, the famous federal transfers, better known as the federal funds. Essentially, these break down into two categories, earned transfers and granted transfers. Within the earned transfers you've got Medicare and Social Security, among others, and they're called earned because individuals have to contribute in the way of taxes before being able to benefit from these programs. However, it is important to emphasize that what I'm referring to are the net transfers, which already takes into consideration the money that was paid by PR residents and deducts it from what comes in. So for example, if Puerto Ricans pay the same as is coming in, the net transfer is 0. Historically, the amounts coming in are much larger, resulting in positive net transfers. On the other hand, the granted transfers are programs like food stamps, Pell grants, and other benefits received by local residents simply by virtue of being US citizens. Because of the multiplier effect, every dollar received by a beneficiary of one of these programs usually gets spent and re-spent throughout the economy, creating huge economic activity.
Check out Part 3 to understand how these federal transfers play a huge role in keeping the local economy afloat.
---
About the author: Jose is an associate at a local investment firm.  He decided to write about the local economy to educate himself and help others learn about such an important topic in today's world.  He is 28 years old and lives in San Juan.
Sources
Dietz, James. 2003. Puerto Rico: Negotiating Development and Change. Boulder: Lynne Rienner.
Puerto Rico Planning Board. 2015. Statistical Appendix, Economic Report to the Governor. San Juan: Commonwealth of Puerto Rico, Office of the Governor.
_______. 2015. Balance of Payments. San Juan: Commonwealth of Puerto Rico, Office of the Governor.
Susan M. Collins, Barry P. Bosworth, and Miguel A. Soto-Class, editors. 2006. The Economy of Puerto Rico: Restoring Growth.  Brookings Institution.
Machlup, Fritz. 1965. International Trade and the National Income Multiplier. Princeton University.